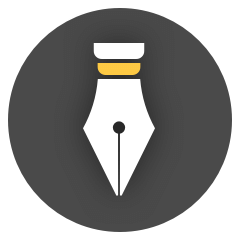 WonderPen
WonderPen is a professional writing app with a focused and fluid writing experience.
Let the Vast Ideas Bloom Like Flowers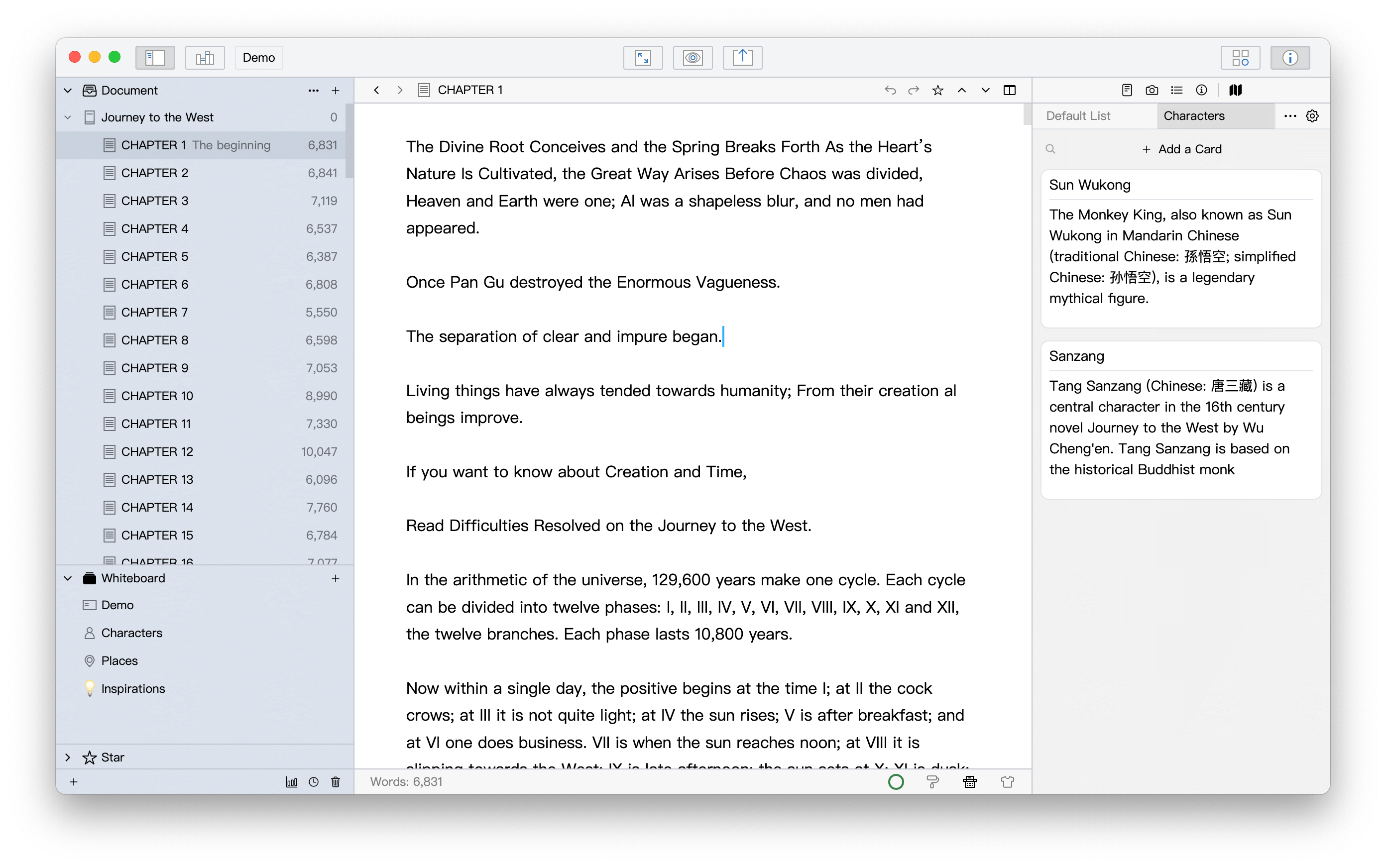 Compatible with Windows, macOS and Linux
Features
Tree Directory
WonderPen uses a tree-like directory to organize documents, supports unlimited levels, and can easily manage both short articles and long works.
Memo
Each document has its own exclusive note, which can be used to record various inspirational notes at any time.
Export to Multiple Formats
Documents can be exported to various formats such as pictures, PDF, Word, Epub, and web pages. Multiple chapters can be exported as a single book in batches.
Offline Storage
Your data is stored locally and will not be uploaded to the network, your data belongs only to you. At the same time, because it does not depend on the network, you can continue to create even when you are offline.
Backup and Snapshot
WonderPen has a built-in complete automatic backup function. By default, it will do a full database backup every 15 minutes. At the same time, it also supports the snapshot function of recently modified documents, so that you can view historical versions at any time.
Compose Mode
Looking to reduce distractions? Try full-screen focus mode, which displays the editor full-screen while hiding extraneous controls, allowing you to focus on writing without distractions.
Minimalist Mode
Hide the controls on the interface in windowed mode, and only display the editor, making WonderPen a minimalist writing tool.
Typewriter Mode
Want to keep the cursor in the middle of the editor? Just turn on typewriter mode, and it also supports highlighting the line where the cursor is.
Editor Split
The editor can be split into two-column views for easy comparison or reference when writing.
Whiteboard
In addition to documents, you can also take global notes or plan writing in the whiteboard, such as recording character settings, or adding a checklist.
Card List
Use the card list on the right column to record global notes for easy reference while writing. Sudden inspiration while writing? Put it in the card list!
Outline View
View your work in tabular outline mode, with an overview of each chapter and the ability to add custom metadata to control your writing progress in a multi-dimensional way.
Themes
WonderPen has built-in multiple themes, you can choose different themes according to your preferences, making writing more enjoyable.
Markdown
Need to insert bold text, lists, formulas into your work? No problem, just use the Markdown syntax and Magic Pen will render it correctly for you.
One-click Formatting
Want to make your work typography neater? Just click the one-click formatting button, or press the corresponding shortcut keys, and everything is immediately organized.
Auto Replace
Set replacement rules to automatically replace characters with the specified content when you enter the relevant characters. Punctuation matching, extended abbreviations, and quick input are all included.
Customization
Not satisfied with the interface? WonderPen provides a lot of customization features, including the width, line height, font, and background of the editor.
Statistics
Want to know how many words you wrote every day? Take a look at the typing statistics, and the progress of each day is clear at a glance.
Interface Lock
Need to leave the computer temporarily and don't want others to see your work? Turn on the interface lock.
Split and Merge Chapters
Habitually write a large story first and then split the chapters? No problem, just click the right mouse button at the appropriate place in the document and click Chapter Split. Correspondingly, multiple chapters can also be easily merged into one.
Writing Targets
Set writing targets, monitor your writing progress in real time, and make writing more rhythmic and directional.
Share Typing Statistics
You can generate an image card of the daily typing number, which is convenient to share or show off your typing results.
Highlight Cards
Highlight the title of the card in the editor for quick reference.
Sync with Cloud Drivers
You can use third-party cloud drives such as OneDrive, Google Drive, Dropbox, etc. to synchronize document libraries, for an extra layer of data security, as well as synchronizing writing data between different devices.
More Features
There are many other features, please refer to the help document for more information.
User Reviews
Reviews from real users
WonderPen is very different, it makes me feel respected and considerate for the user. Less than a month since I downloaded it, I finished editing my work today, thank you Miaobi, this time the editing process was smooth and happy!
红摇
代表作品《引郎入室》《宠爱有加》等。 头条文章作者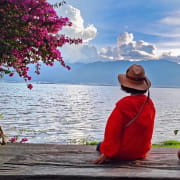 You probably don't realize how much I like this product. To put it this way, since using WonderPen, I almost never use Word anymore.

I am one of the earliest users of WonderPen, and while I use WonderPen to write, WonderPen is also constantly growing. The snapshot function, whiteboard card, custom metadata, writing goal, and more and more user-friendly features are created by programmers, and the experience of coding words is simply amazing! Since using WonderPen to write, I have been unable to leave it~. I hope that I can create more wonderful stories with WonderPen and bloom all the way with WonderPen!

As a text worker, it is not easy to find such a perfect software for Chinese writing, it is very surprising!
Vidaant
Mac App Store User

An easy-to-use writing tool that allows people to focus on their writing. In long and complex situations, it is convenient to modify and adjust chapters and order. Thank you, WonderPen, for the help in the writing process of 《糖贝贝日记》!
朱泓默
生活的研习室主理人,自由摄影师,著有《梦想花园》《糖贝贝日记》等

WonderPen is a great creative tool for text workers. It has been constantly updated and improved over the years, and the developers are very attentive, especially in terms of support for domestic systems. The functions are powerful and meticulous. I hope it will become even better and be recognized by more people.

After a one-day trial, I decisively purchased it, and since then I have only used it for writing. The most heartwarming thing is the software developers' meticulous service attitude, they will always respond and feedback patiently. In my personal experience of writing, WonderPen 2.0 has a very satisfactory user experience and the functions are basically complete. It is one of the software that writers should try. With the author's sense of responsibility, I believe that the WonderPen software will become more and more perfect and everyone will find it easier to use.

A classic example of a really useful, thoughtful app that's much less well known than it should be.
Wombloid
Mac App Store User

I have been writing for five or six years and have used WonderPen for three or four years, witnessing the growth of WonderPen. There are many reasons for liking WonderPen, on the basis of being easy to use, there is also the kind of empathy: "The authors of software and writing are constantly updating, listening to every voice, and striving to be satisfied."
It is better to have a wonderful pen than to have a wonderful thought, and it is better to sing together than to sing alone!
WonderPen is concise and efficient, making the vastness of writing bloom like flowers no longer a past tense.

On the road to becoming a platinum god (白金大神), you should have a good writing software - WonderPen.

I've used quite a few writing apps over the years, from simple notepads to Ulysses and Scrivener. While the high-end apps have their place in a writer's life, I find that WonderPen fills my needs for a writing app that concentrates on Writing. The dev is very responsive in answering questions, and I expect the same if I encounter a support problem. Support your indy developer!
Scruffy_Dog
Mac App Store User

Pricing
WonderPen is free to download and use, upgrade to the Pro edition to unlock more advanced features, and upgrade to the Pro+ edition to get more cloud service support.
Basic
Provides basic writing functions, free to download and use, and the data is stored locally.
Free
Download
Document creation and editing
Whiteboard & Cards
Import txt files
Export as image, PDF, Epub, etc.
Document library backup and recovery
1 cloud library
Pro
Unlock various advanced features, suitable for local writing scenarios or standalone mode.
-
Download
All basic edition features
Multiple theme colors
More cards supported
More document snapshots
Custom CSS
1 cloud libraries
More cloud features and storage capacity, auto-sync, write anytime on multiple devices.
¥128/year
Buy Plan
All Pro features
1,000 cloud libraries
20,000 document items per cloud library
100,000 characters per document
Cloud snapshots retained for 90 days
More space for assets
Frequently Asked Questions
What is WonderPen?
WonderPen is a desktop writing software dedicated to providing authors with a focused and smooth writing experience, which can be used in writing scenarios such as novels, papers, short stories, and diaries.
What are the standout features of WonderPen?
WonderPen has many thoughtful features related to writing, such as typewriter mode, composition mode, one-click formatting, automatic replacement, cards, chapter splitting and merging, etc. It can also easily export works as PDF, Word, Epub, and other formats.
Is my data safe?
WonderPen has built-in automatic backup and document snapshot functions, which provide multiple protections for your data. Generally speaking, as long as the hard disk does not malfunction, the data will not be lost. If you upgrade to Pro+ membership, you will be able to create more cloud libraries.
Is there a mobile version?
Currently there is only a desktop version, but the mobile version is already in our upcoming plans. Please look forward to it.
Compatible with Windows, macOS and Linux
|
For more features, please check the Manual